Aakash Management Team
Aakash Chaudhry
Chief Mentor
Mr. Aakash Chaudhry is the Co-Promoter and Chief Mentor at Aakash Educational Services Limited (AESL). He possesses extensive experience in strategic, operating, business and administrative areas and has been responsible for the overall business, management and direction of the company in his last assignment as Managing Director of AESL.

Before commencing his journey at AESL, he worked with top IT companies of India such as Infosys Technologies and Cognizant Technology Solutions. Passionate about addressing the needs of deserving students, he worked dedicatedly towards providing focused and quality education across the nation through effective delivery channels.

 Mr. Aakash transformed AESL from a neighbourhood well known coaching centre into an established a large national level corporate test prep brand & company, providing cutting- edge and niche educational services. He established new-age systems, inducted processes and methods for efficient operations, onboarded top talent, developed research & development in academics & training, built technological advancements, introduced automation and effective sales & marketing processes. He ensured that AESL's classroom, hybrid & digital services continue to evolve as the best ever offering in the industry. Mr. Aakash has been the driving force behind expanding the company's educational services portfolio to include IIT-JEE test preparatory services, Foundation coaching services as well as Hybrid & Digital learning programs.

In 2018, he was recognized as one of the disruptive leaders by Business World and was listed among the coveted "40 Under 40" young leaders list. He is the Founder and Trustee at the Plaksha University (www.plaksha.edu.in). He is also the Founder and Supporter at the Ashoka University (www.ashoka.edu.in).

An alumnus of Harvard Business School, Mr. Aakash is an engineer by profession with a Bachelor's degree in Computer Sciences and an MBA from the Indian School of Business (ISB), Hyderabad.
+ Show More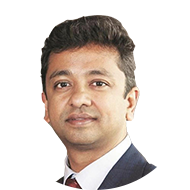 Mr. Abhishek Maheshwari
Chief Executive Officer (CEO)
Abhishek has a Bachelor's degree in Electrical Engineering from IIT Delhi and an MBA with distinction from Columbia Business School in New York. Prior to joining AESL, Abhishek was the President of International Business for Byju's where he was responsible for driving the edtech company's growth globally. Prior to Byju's, he was the Country Head for Disney leading all of its brands and businesses in India. He has also worked with Kubera in principal investing and with McKinsey in strategy consulting across their India and US offices.
+ Show More
Anup Agarrwal
Chief Business Officer (CBO)
Mr Anup Agarrwal is the Chief Business Officer (CBO) at Aakash Educational Services Limited (AESL). He is a professional with over 29 years of experience in developing and managing the business. He has worked across industries like IT, Education, Manufacturing & Telecom. He has been associated with prestigious brands like Narayana Group of Education, Fujitsu ICIM, HardByteSystems, CMC Computer Education & Mekatronics.

He has been a part of various management committees and strategic advisor to various organizations. Over the past 2 decades, he has been instrumental in conceptualizing, managing and developing business for various organizations.

He along with professionals with same visions founded the LetzDream4U Consultants (P) Ltd., a Skill Connect Start-up, to help students searching for success. He is known for his aggression and innovation in business practices. Process automation to help business for growing organizations is another area which Mr Anup has mastered.

Mr Anup holds a Bachelor of Engineering Degree in Industrial Electronics and has an Executive Certification from SJMSOM, IIT (Mumbai) in HR & Marketing. He is also an ISO certified quality engineer.
+ Show More
Sachin Saxena
Chief Human Resources Officer
Mr Sachin Saxena, is the Chief Human Resources Officer (CHRO) at Aakash Educational Services Limited (AESL). With 20+ years of experience in various facets of Human Resources, Training, Administration & CSR with Education, Healthcare & Hospitality industry, Mr Sachin holds a Senior Management from IIM Calcutta, Post Graduate Diploma in Business Management from IMT Ghaziabad and Fellowship in Organisational HRM from Carlton Advanced Management Institute.

Prior to joining the company, he was associated with Avis India as Chief Human Resources Officer, VLCC and NIIT.
+ Show More
Sandeep Dham
Chief Operating Officer (COO)
Mr Sandeep Dham, 45 years, is the Chief Operating Officer (COO), at Aakash Educational Services Limited (AESL). He holds a Bachelor's degree in Engineering from Motilal Nehru National Institute of Technology, Allahabad. He completed his Post-Graduation in Management from IIM, Ahmedabad.

Mr Sandeep has 22 years of work experience across Branch Operations, Business Development, Supply Chain Management, IT Transformation, Change Management, Compliance and Leadership. With the ability to lead a large team across multiple geographies, he has extensive experience in new product, service development, training of teams to lead sustainable and profitable growth.

Before joining the company, he was associated with Safexpress as Vice President (Business Development) and worked in senior roles at Madura Coats, Infosys Technologies and Asian Paints.
+ Show More
Vipan Joshi
Chief Financial Officer
Vipan Joshi is the Chief Financial Officer at Aakash. He is a qualified Chartered Accountant and IIMC Alumni. He has 20 years of experience in Finance and Accounts, Strategic Planning and Budgeting, Fund raising, Handling Investors relations, Handling Due Diligences, Merger and Acquisition, IPO Filing, Audit and Taxation for leading Companies in Education, E- commerce, Engineering, MNC and Retail. Over the last 20 years, Vipan has served across numerous financial leadership roles in several Companies including Aakash, Thermax Limited, Grofers, Snapdeal, Yebhi.com and Guthy-Renker, where he had played critical roles enabling him to lead teams to focus on System and Controls, Financial Planning, Organic and Inorganic Growth, Merger and Acquisition, Fund raising, Profitability and tax compliances.

Vipan is associated with Aakash since 2016.
+ Show More
Veerendra Kumar Achanta
Company Secretary and Compliance Officer
Mr Veerendra Kumar Achanta is the Company Secretary and Compliance Officer at Aakash Educational Services Limited (AESL). With an extensive experience of over 20 years in Corporate Laws, Contract Management etc., he holds a Bachelor's Degree in Law from Osmania University and a Bachelor's Degree in Business Management (Accounting and Finance) from the Faculty of Commerce and Management Studies, Andhra University. He is a fellow of The Institute of Company Secretaries of India (ICSI).

Prior to joining Aakash, he has been the Company Secretary at Lanco Infratech Limited and Krebs Biochemicals & Industries Limited.
+ Show More